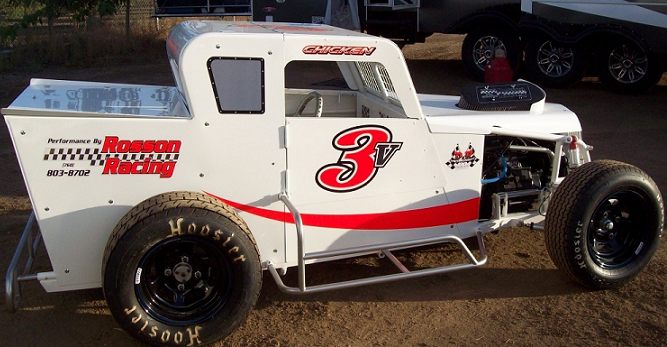 A little about us..
In the beginning of 2009 J.R Drake, Kevin Drake, and Shane Rosson, decided to collectively brainstorm and come up with a new design for a dwarf car. This is how D&R Chassis (Drake & Rosson Chassis) came to be. We came up with a game plan and went to work. The prototype car was finished in the beginning of July, and in our second race out on July 18, Kevin Drake (test pilot) took the new car to victory lane at Barona Speedway and on 8-29-09 I won my heat race and main event. This was my second time to ever drive a dwarf car and I was extremely happy with how the car handled. The feedback from Kevin as a long time dwarf car driver was nothing but great. Among the several things he liked about the new car, he stated how easy the car was to steer, and how much forward bite the car has, and went on to praise the car as "the best car I've ever driven.." Needless to say, the results with this new car were way beyond anything we could have expected.
The end of August we started production on the new cars and from this point on, it is our goal to be a new force in the dwarf car market. Our chassis conform to the Western States rules. The Chassis as well as most of the components (hubs, spindles, upper and lower A-arms, bumpers, nerfs, etc.) are all manufactured and tig welded in house, here at D&R Chassis. Our chassis are built using fixtures and the most current manufacturing software and testing equipment so you can count on each car being the same. All of our components are built using state of the art equipment so you can feel comfortable knowing replacement parts will be the same and fit properly. We have already started logging set up information, and this information will always be available to D&R customers. We look forward to serving our new customers, and hope you will consider making D&R Chassis your new source for all your dwarf car needs.
D&R Chassis, in conjunction with Rosson Racing, has been developing a modernized dwarf car chassis with improved suspension, and a full-line of high quality components. With turn-key solutions as well as rolling chassis, D&R Chassis is your top choice for a winning combination. This improved racing platform for the class, aided by modern advanced racing solutions for winning performance, brings serious competition to any track it encounters. The new D&R Chassis design, driven by our racing team, and our customers, have already accomplished the CDCRA North, CDCRA South and CDCRA Overall Championship, Placing 2nd in Two Nationals and One Third. If you want to win, you want the new D&R Chassis.